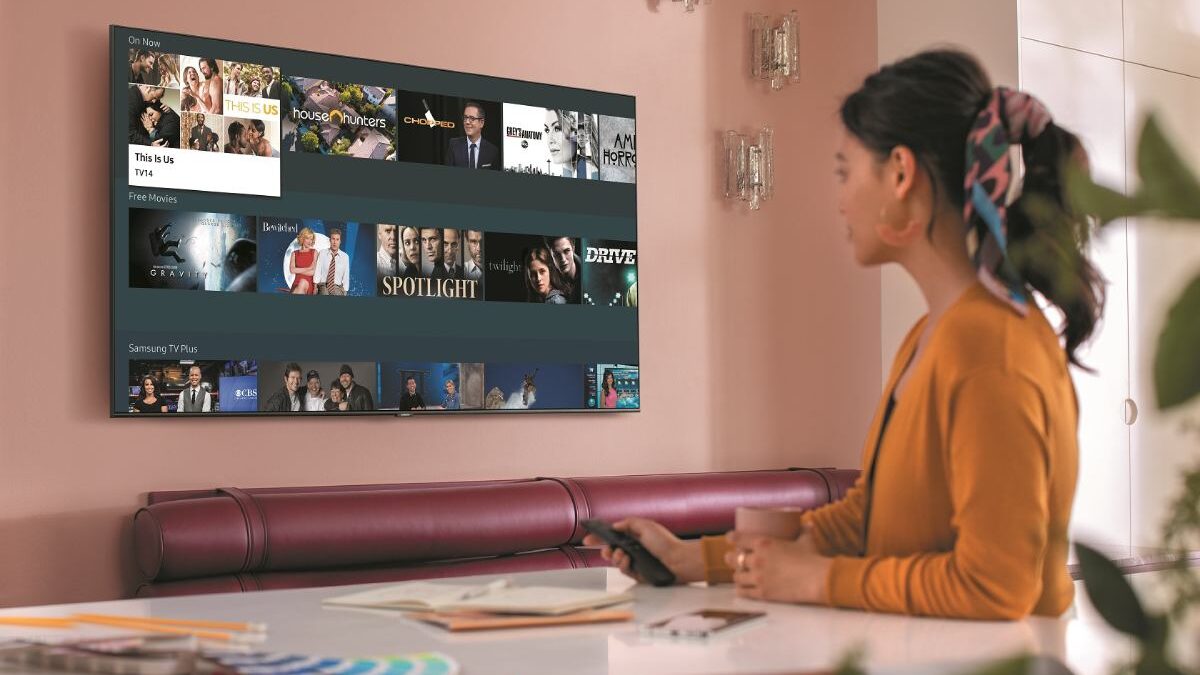 4K TVs are a great way to enhance your at-home cinema experience. Whether you are playing games or watching a film, you want a TV that provides crystal clear quality. We have listed our top 5 4K TV picks below.
LG 4K OLED TV 55 inch
LG have released a TV with 100% colour accuracy with pixel perfect details. This TV provides extra wide viewing angles that is great for sport experiences. This smart TV provides the leading apps including Netflix, Prime Video and Disney+. It also comes with the LG Magic Remote, making your life easier with built-in Google Assistant and Alexa. This TV provides a sleek design created eco-friendly materials making your home more sustainable.
LG QNED TV 65 inch
This LG TV provides Quantum Dot NanoCell technology giving more accurate and richer colours. This TV also features AI Sound Pro giving an immersive atmosphere for any room. Providing Motion Pro technology allows everything to stay in focus which is perfect for sport viewing. This TV comes with a slim profile and bezel combined with a sleek stand design.
LG UHD AI ThinQ TV 55 inch
This TV is a favourite with gamers providing the option to optimise your picture for whatever type of game you are playing. With the vibrant picture quality and sharp detail combined with AI sound feature, this creates an immersive atmosphere no matter what you are watching or playing. LG provides easy-to-use webOS smart platform with the most popular apps included. With its thin design, you can slot this TV into your living space with no issues.
LG NanoCell TV 43 inch
NanoCell technology provides nanoparticles to filter out impure colours powered by intelligent processing. The webOS platform provides apps like Netflix, NOW and Disney+ giving you the upmost entertainment. This TV is also built with voice-activated interface that is personalised to you. If you are a gamer, this TV will transform your experience with fast, smooth gaming creating an immersive atmosphere.
LG OLED evo Gallery Edition TV 55 inch
The new OLED evo technology provides you with the brightest ever OLED, providing sharp clarity content. This TV also includes flush fit wall-mount providing a gallery design with an ultra-slim profile. This allows you to merge your TV seamlessly into your environment. Enhance your at-home cinema experience across the board including movies, gaming and sports.
When choosing the right TV for you, it is important to take into consideration the size, your budget and what you will be using your TV for. Concept Direct provide a wide range of TVs from the biggest brands at an affordable price.
Also Read:
How To Choose The Best Tech Gadgets
6 Countermeasures For Cyberattacks
Advantages Of Having a WiFi Router Extension

Digital Technology Guide
Digital Technology Guide team who always gives information about latest technology news and latest gadget reviews recently released with all specifications to all our readers.
Related posts