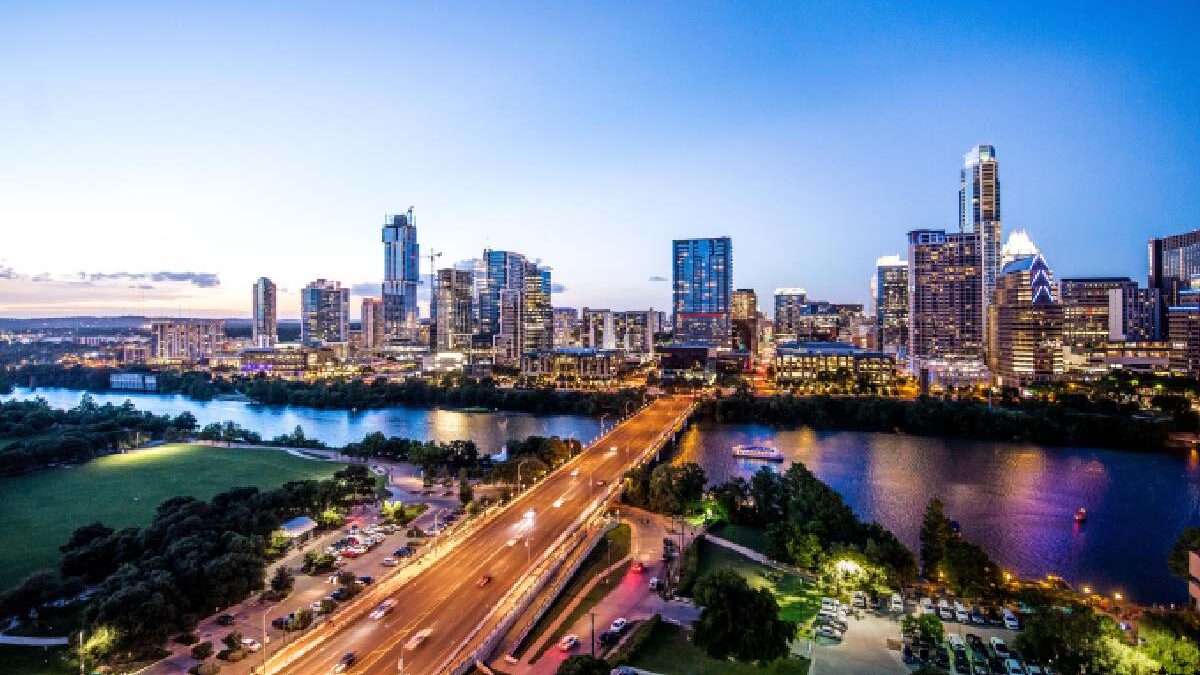 The Austin industrial real estate market had a record-breaking quarter with positive absorption, rising rental rates, and a high number of construction deliveries. Demand remained positive for nearly the eighth year in a row, and the construction pipeline remains saturated with high-profile projects to deliver through 2023 and 2024.
The robust demand is driven by Austin's transition to becoming a national semiconductor manufacturing hub through the addition of plants for Tesla and Samsung. Vacancies slightly rose due to completions outpacing demand, but industrial investors remain in an advantageous position going into 2023.
General Area Overview & Demographics
Austin is the fourth-largest city in Texas and has a population of 1.01 million as of 2023.
The median age is 33, and the median household income is $75,752. The relatively young population and high average income drive a diverse economy that has seen enormous growth in the past decade.
Austin exists in a transitional zone and features a humid subtropical climate characterized by hot, long summers and mild, short winters. Austin lies in Tornado Alley and is prone to flooding in the spring and early summer.
Austin is a major tech city with the nickname "Silicon Hills" as a reference to Silicon Valley. Several major tech companies have a presence in Austin, including Apple, Amazon, Google, HP, Nvidia, PayPal, EA, eBay, Samsung, Tesla, and Cisco Systems. Austin has also recently been building its biotech and pharmaceutical sectors.
Summary of Austin Industrial Real Estate Performance in Q4 2022
The Austin industrial real estate market continued its streak of extremely positive quarters, with Q4 2022 bringing a record-high 1.2 million square feet of positive absorption and the 34th consecutive quarter of positive demand. New deliveries pushed vacancies to 4.7—the highest since Q4 2021—but strong preleasing demand will reduce that vacancy rate during the beginning of 2023.
Overall, Austin's industrial market posted 4.2 million positive square feet of absorption in 2022. Nearly a fourth (1.33 million square feet) of this yearly absorption came from the Hays County submarket, and the Northeast submarket posted the second higher YOY absorption at 747,085 square feet.
What Are Industrial Rents Like in Austin?
Industrial rents grew to an average of $11.59 per square foot in Q4 2022, representing a 4.4% YOY increase. The strong rental growth is due to a tight supply and strong leasing activity eating up newly constructed buildings. The average asking rate for warehousing/distribution was $9.47, and the average asking rate for flex/R&D space was $16.65.
The submarkets with the higher triple-net (NNN) asking rates in Q4 2022 were South, Central, North, and Round Rock, at $18.04, $17.24, $16.77, and $14.60 per square foot, respectively. The submarket with the highest YOY rental increase was North, which grew 39% from $12.02 in Q4 2021 to $16.67 per square foot in Q4 2022.
Purchase & Leasing Activity
Over 2022, Austin posted over 6.5 million square feet of leasing activity—slightly down from leasing activity at the same time last year but still well ahead of historical averages. Investment activity also rose throughout 2022, with a total sales volume of nearly 500 million units and an average sales price of $149.15 per square foot.
Despite the large number of delivered projects this quarter, Austin's high leasing activity is constraining supply. The majority (~66%) of new space was pre-leased, and over 11% of planned construction projects are preleased. The tight supply constraints put landlords in a favorable position for negotiating leases with relatively few concessions.
Notable Industrial Real Estate Deals in Q4 2022
A fair portion of quarterly industrial real estate transactions was from suppliers for Tesla's Gigafactory off Highway 45 and Samsung's semiconductor plant in Taylor in the I-35 Corridor. Of particular note was Applied Materials' two leases totaling 350,100 square feet at 130 Crossing. Other notable real estate transactions in Q4 2022 included:
Valex Corp's 189,280 square foot lease at NorthPark35;
Chadwell Supply's 86,339 square foot lease at NorthPark35 – Building 3;
Denim Designs' 81,799 square foot lease at 328 Barnes Drive;
EOS's 68,040 square foot lease at 130 Crossing – Building 5; and,
Karlin Real Estate's purchase of 2,482,920 square feet at 11705 Research Blvd N.
The majority of these notable leases and sales took place off of the I-35 Corridor or in the 130 Crossing industrial park.
New Industrial Real Estate Development in Austin in Q4 2022
Austin added nearly 2.2 million square feet of product to its industrial market in Q4 2022, bringing annual total additions to 13.3 million square feet. Austin currently has 14.4 million square feet of construction in the pipeline, representing nearly a 60% increase from the same time in 2021. A significant number of these new constructions are in the North and South submarkets, where land costs are lower.
Below is a table showing some notable construction projects and their expected delivery
| | | | |
| --- | --- | --- | --- |
| Property Address | Size (SF) | Developer | Est. Delivery Date |
| Aviation Drive | 426,240 | Stonelake Capital Partners | Q1 2023 |
| 24801 Interstate 35 | 474,397 | Alliance Industrial Company | Q2 2023 |
| 101 Velocity Drive | 432,640 | Titan Development | Q3 2032 |
Market Forecast for Austin's Industrial Real Estate Market in 2023
Austin's industrial supply is expected to remain tight amidst record-high demand, giving landlords substantial leverage to negotiate rental increases. Strong construction activity will likely mitigate potential leasing problems from construction delays and interest rate hikes.
Austin is also showing strong economic fundamentals, with below-average unemployment (2.8%) and 19.5% YOY job market growth. Industrial activity will continue its strong trajectory as Austin cements itself as a national manufacturing hub.
Takeaways for Industrial Real Estate Investors
Due to extreme leasing activity, landlords can focus on leasing space with minimal tenant concessions. In particular, landlords with access to second-generation space can lease to new tenants who are used to paying premium rents for new construction.
Even in the event of construction delays, high preleasing activity across the board indicates landlords should have no trouble filling space.
As always, stay vigilant, do your research, and happy investing.
Also Read:
How To Choose The Best Tech Gadgets
6 Countermeasures For Cyberattacks
How Do Search Engines Determine the Authority of a Website?
How To Create A Powerful Landing Page To Enhance Your Brand Identity?

Digital Technology Guide
Digital Technology Guide team who always gives information about latest technology news and latest gadget reviews recently released with all specifications to all our readers.
Related posts