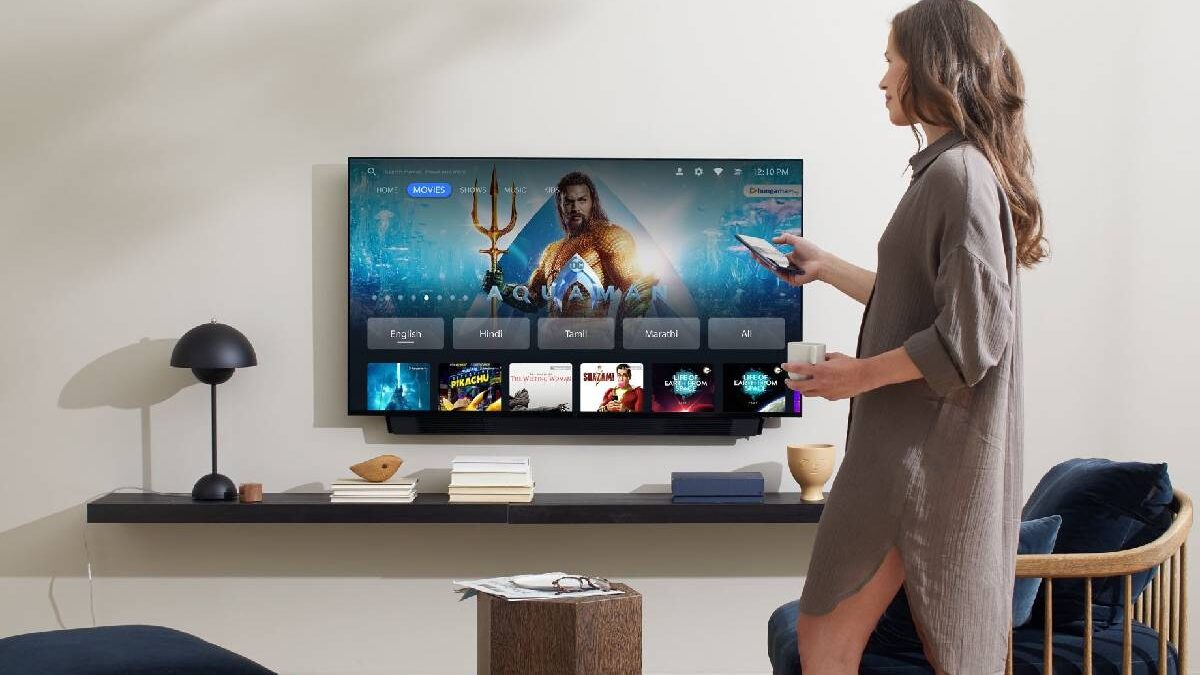 We have moved from the traditional television to another that combines all video, music, or video game platforms. Smart TV options even go further, offering options such as voice recognition and other functionalities.
The way we use our free time at home has changed a lot in recent years. The offers and formats are multiplying, and the devices with which we enjoy entertainment products are adapted to this new era. The television, that device that traditionally brought the whole family together, is transformed into a Smart TV, bringing together all the entertainment options in one place while at the same time innovating the way we interact with it.
But how do you choose the most suitable one? To help us in this task, Samsung offers us a series of tips. We discover everything from the connectivity options with other devices to all the possible applications to enjoy the best video content, sports, music, etc. Each form of entertainment has models that better fit the user's profile, depending on what we choose. These are some of the proposals that fit in with different ways of understanding free time.
For series addicts
A clear example of the new avenues of leisure is the platforms of movies and series, to which Smart TVs have been adapted to offer fast and intuitive operation. Thus, Samsung televisions not only connect to platforms such as Netflix, HBO, or Disney + but also allow movies and series to be played in UHD format, ultra-high-definition with a quality four times higher than the standard high definition of 1080p, used in series like Better Call Saul, Marco Polo and House of Cards. To enjoy the highest quality picture possible, Samsung QLED 8K TVs have an intelligence ally. Thanks to it, you can correct images in real-time, improving their quality until they can be viewed at 4320 pixels.
All these options are included in Samsung Smart TV models, but The Premiere is especially suitable for enjoying series and movies like in a movie theater. With its projector with 4K triple laser technology, a powerful sound system, and up to 130 inches in size, the immersive experience of being inside a movie is more real than ever. Samsung's Smart TV options include a free content platform, Samsung TV Plus, with more than 50 free live or on-demand TV channels.
For sports fans
Vibrating with a football or basketball game, following the gestures of tennis players or pilots, or following in detail the main athletics competitions are another of the favorite hobbies to enjoy at home for many and many. Sports platforms such as DAZN or LaLigaSportsTV, easily accessible on a Smart TV, multiply the offer. To avoid losing detail in these events, in which speed is many times the key, Samsung has HDR10 + high dynamic range technology, which makes it possible to view images with large variations in light without losing quality. In addition, the processor in Samsung's Neo QLED TVsThey incorporates an Artificial Intelligence system that analyzes and improves each pixel on the screen to enjoy a more realistic image quality. Suppose we want to enjoy these contents outdoors. In that case, a perfect option is The Terrace, specially designed to avoid glare from the sun, dust, water, and heat, while enjoying 4K image quality with QLED technology and all this with a product resistant to inclement weather and dust.
For those who are always connected
Listening to music is another of the entertainment options that we can now do through a Smart TV. Platforms such as Spotify are available directly through the television, with a sound quality that allows you to enjoy it better than other devices such as computers or mobile phones. Also, the content of networks such as YouTube or even social networks. For example, Sero television presents one of the latest Samsung innovations since it has been designed to rotate and be able to reproduce platform content in the format in which it was created. If you want to watch an Instagram video, The Sero will be in portrait format, but the screen rotates to horizontal if you want to watch a series or movie.
For those looking for simplicity and intuitive use
The way you use your TV is also changing in the era of Smart TV, with new features and easier, more intuitive control. The different Samsung models include the option of voice assistants, such as Bixby, Alexa, or Google Assistant, allowing you to choose between the different entertainment options, from series and movies to music, simply by using our voice. Also, with the Universal Guide functionality, an advanced programming guide facilitates access to programs and a series of platforms that Artificial Intelligence uses to show us a personalized selection of content by categories, unifying our recommendations in a single application.
For design devotees
In addition to all the functionalities, image quality, sound, and connectivity, some seek that the design of their television seduces from the outside and adapts to their lifestyle. The Serif is the answer in those cases: designed by the brothers Ronan and Erwan Bouroullec, internationally recognized for their furniture designs. The Serif is an aesthetic pleasure and a highly sought-after object of desire. Its elegant lines, which in profile form the silhouette of a letter I, make it a design piece with its character in the house. You can place it on the base that is included or without it, on shelves, or top of furniture.

Digital Technology Guide
Digital Technology Guide team who always gives information about latest technology news and latest gadget reviews recently released with all specifications to all our readers.
Related posts