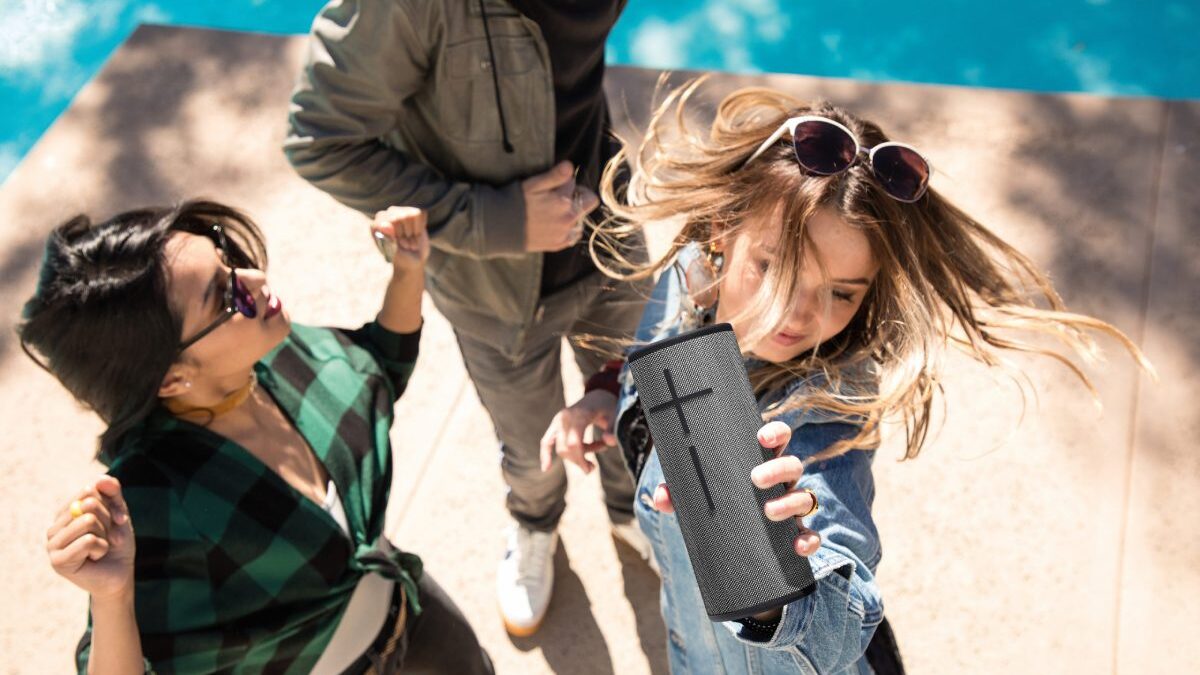 Just a few weeks ago, we published a comparison of the best waterproof Bluetooth speakers with radio to take to the pool or the beach coinciding with the beginning of the summer season. They all had some features in common, such as Bluetooth connectivity. This technology is also shared by the following selection of portable speakers with the following addition: they integrate an FM radio function, so in addition to being ideal for enjoying music stored on your mobile phone or tablet, they allow you to tune in to FM radio stations that we like the most wherever we use them.
Which radio Bluetooth speakers have we tested?
  These are the models chosen for this comparison: Muse M-1915 DJ (9), Energy Sistem Music Box 9 (8.5) and SPC Razz Speaker (7.5), and Vieta Pro Easy 2 (8). The aspects that have been valued and scored are the following:
– Design: focused on the quality and choice of materials chosen for
– Sound: How does the speaker sound when you play the selected songs? Is this sound crisp and clean, or does it distort?
– FM radio: if they tune in and allow good listening to radio stations or interference occurs
– User experience: it has been assessed whether each of these Bluetooth speakers with radio complies with what it promises, the autonomy provided by the battery it integrates, how other features they share such as the hands-free function respond, and finally if they add to its characteristics other connectivity options such as 3.5 mm auxiliary input or a USB port from which to play the songs stored on a memory key.
Comparison of the best Bluetooth speaker with radio: this is how we have tested them
Each of them has been tested over the course of several days, both indoors and outdoors, to verify both their sound quality and their radio function. This has allowed, on the other hand, to check if they work correctly, how other features respond, such as the hands-free autonomy of their batteries. The musical styles have been diverse, although we have focused mainly on pop music.
The winning Bluetooth speaker with radio is the Muse M-1915 DJ model, not only for the user experience it offers but also for its striking design and including a microphone as an accessory.
Bluetooth speaker with radio Muse M-1915 DJ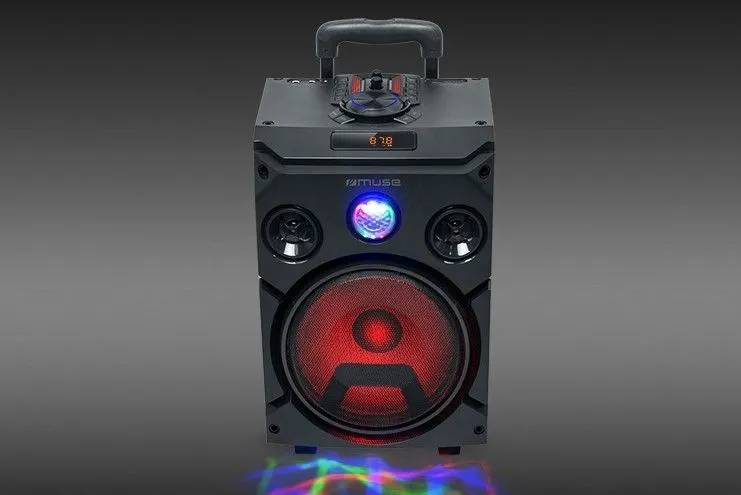 The concept of Bluetooth speaker in this proposal is completely different from the rest since it is a trolley that we move with the help of the two wheels located at its base and the telescopic handle on its back; a handle that can be raised and lowered perfectly, and that is handled comfortably when moving it from one place to another. The model, made of wood, has dimensions of 464 x 286 x 287 millimeters and weighs 6.2 kilograms.
Its design is most striking, and this sensation is increased when we turn on the speaker as it casts a multicolored ambient light that simulates a party atmosphere. The on/off button is located on the back and can be used both connected to the electrical network and wirelessly thanks to the 2,600 mAh battery that it incorporates: if we decide to connect it via USB, we will have to use the charging connector located next to the interface that allows you to use USB memory keys (only reads MP3 files). Of the physical controls that it incorporates, we want to highlight its equalizer and 'Media Bass' that reinforces the bass.
As a device for listening to music, the experience is very good because the audio is balanced very well, the sound is clean, clear, 'full-bodied' … although the 150 watts indicated by the manufacturer are not perceived as such. Even turning the volume up to the maximum, distortion is minimal. This volume is controlled through a wheel, and the chosen level is reflected on the front digital display.
– The best: its original design, sound quality, and tuning of the radio
 – The worst: although the sound experience is satisfactory, those 150 watts are not perceived as such in some moments. It does not have a hands-free function.
 – Conclusions: stands out for offering a completely different design from the preconceived idea of ​​what a Bluetooth speaker is. Good sound experience and the possibility of using it with or without cables.
Bluetooth speaker with radio Energy Sistem Music Box 9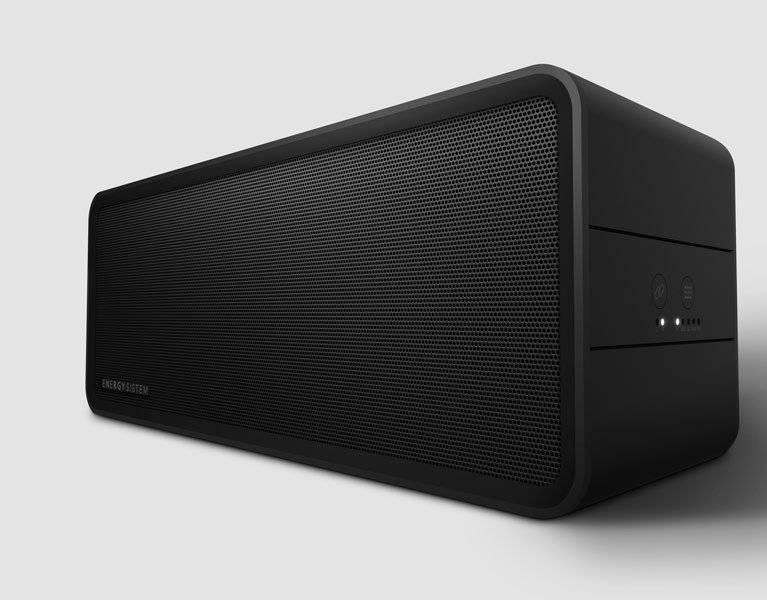 As with the Vieta Pro Easy 2 wireless speaker, it has been provided with a technology called True Wireless (activated from one of the controls located on its right side), thanks to which we can enjoy stereo sound if we use another Music speaker Box 9 at a time. It is a model that, just out of its box, conveys a good impression: the finishes, materials. It sports a discreet design in black with slightly curved lines on the sides, has a size of 310 x 120 x 106 millimeters, and weighs just over two kilograms.
At the top is the touchpad made up of six controls, the usual ones in this type of speaker: volume control (up and down), play/pause, and forward and backward in the songs; If these last two are pressed for a long time for a few seconds, they allow us to scroll through the stations on your FM radio with up to 50 presets. The experience of using this radio is one of the most we liked, along with Muse's proposal.
As a Bluetooth speaker for playing music, this model does not disappoint and performs well between different musical genres. It denotes a good power, although the feeling is that the 40 watts available could give 'much more of itself'. Still, the sound is clean, balanced, and crisp. Like other models in its class, it incorporates a hands-free function and with quite good results.
It is surprising, on the other hand, that the battery cannot be recharged through a USB connection as the rest do. In this case, in the box, we find an AC / DC power adapter that takes about two and a half hours to charge one hundred and one hundred percent, and its battery is generous.
Vieta Pro Easy 2 Bluetooth speaker with radio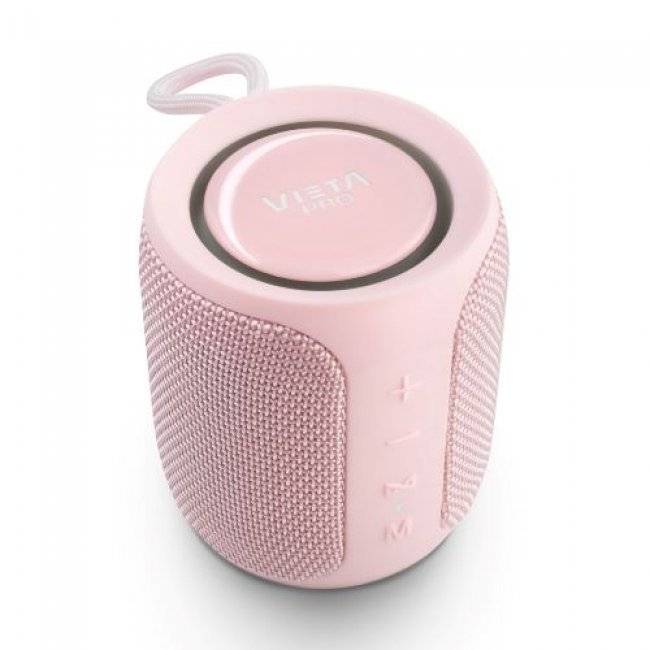 Its small size and lightweight (321 grams) are surprising when you hold it. Available in different colors (blue, burgundy, pink, black), the structure is bathed in a layer of soft rubber to the touch and is also resistant to water thanks to its IPX7 certification: this standard would protect it if it falls into the groundwater for 30 minutes at a depth of one meter.
To pair with mobile devices, it uses Bluetooth 5.0 technology, a process that is completed almost instantly because it is so fast. As for the built-in controls, you can quickly use them to control the volume level or switch from song to song. In this sense, the manufacturer has done a good job from a sound quality point of view because it sounds good and does not distort. This audio, yes, does not throw a high power. By the way, when the music is playing, a ring that changes color lights up at the top. The FM radio function is accessed from the 'M' button, and with the '+' and '-' controls, you move through the different stations until you find the one you are looking for. The procedure is very simple,
As additional features, it incorporates the option of using it hands-free. It is also possible to activate the voice assistant of the mobile phone with a long press of the 'M' button; both functions well, and they do not cause problems. In our tests, we obtained a range of between nine and ten hours.
Best value for money
To its USB class C port to recharge the battery (the cable comes in the box), you have to add two more physical connections: a 3.5 mm minijack input and an interface to which a memory key is connected and to play its content (WMA, WAV, and MP3 files). All three are protected by a tab.
Bluetooth speaker with radio SPC Razz Speaker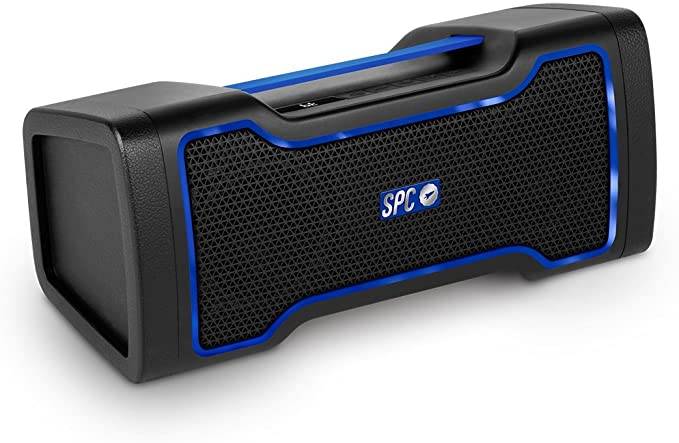 It has a solid construction that guarantees significant resistance, especially if we are going to use it continuously, and as with the Vieta Pro Easy 2 model, it incorporates a strap that facilitates its transport. In this regard, this SPC Bluetooth 4.2 wireless speaker has compact dimensions (209 x 92 x 88 mm) and weighs 713 grams, so if we are going to take it on the go, we can do it quite easily.
Meanwhile, in the back are the physical controls that are protected thanks to a rubber cover. We discovered a microSD card reader, a 3.5-millimeter auxiliary input, and a class-C USB port that powers its 2,000 mAh capacity battery. Although its autonomy is not as comfortable as that of its competitors, it practically 'nails' the six hours of use that its manufacturer promises, as long as the music is not turned at too high a volume.
To enjoy the best possible sound experience, it is preferable not to turn the music too high; otherwise, it will distort. The volume control is located on the row of buttons on the top of the speaker, from which, on the other hand, we activate the play/pause options or turn on the FM radio. It is known which station we have tuned in to because, in this row of buttons, there is a small LED display that shows this information. How was the experience? While some stations are tuned in well with others, this has not happened, and only interference occurred.

Digital Technology Guide
Digital Technology Guide team who always gives information about latest technology news and latest gadget reviews recently released with all specifications to all our readers.
Related posts