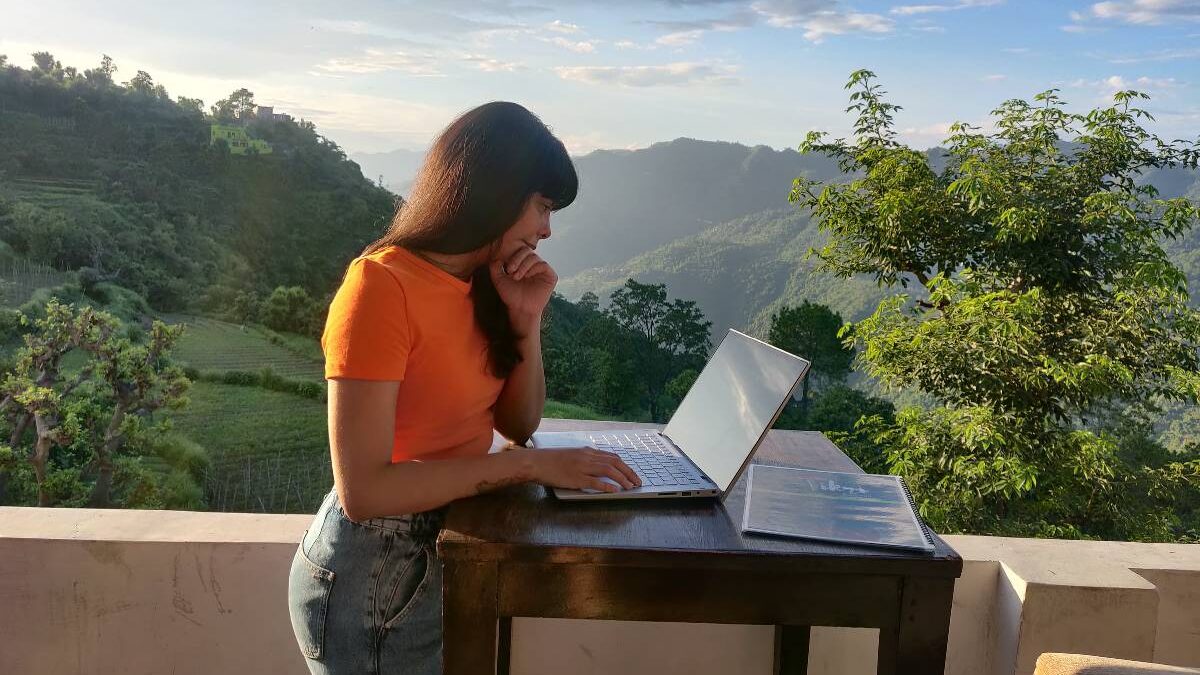 Remote work is a flexible working arrangement that many employees have become accustomed to throughout the pandemic. According to the experts, it's here to stay.
For Ladders CEO, Marc Cenedella, remote work arrangements is the largest societal change seen since the end of World War II. He believes that the pandemic "turned up the heat" on hiring practices and that by the end of 2022, 25% of all professional jobs will be performed remotely.
Why remote work is here to stay
In a 2021 survey, 2,050 full-time workers surveyed said they were as productive or more productive working remotely compared to when they work from the office. Survey results also suggested that working from home is better for mental health and work-life balance and that many respondents love working remotely so much that they would be prepared to take a pay cut as a way to keep it permanent. Things to love about working remotely include:
Flexibility
Many remote jobs come with flexible schedules that allow you to choose when your day starts and ends. As long as work is completed to a high standard and leads to strong outcomes, the timing of when it is done doesn't matter. In addition, this flexible working style allows you to attend to the needs of your personal life, be it dropping kids to school, running some errands, putting on some washing, or prepping food for dinner. This ultimately results in a better work-life balance.
Less travel stress
The time spent traveling to and from work adds up and can eat into what would otherwise be a productive day. Less time traveling allows you to prioritize your health, be it a bit more sleep or getting a workout in before breakfast. Daily commutes have long been associated with increased levels of stress and anxiety, which can be harmful to both short- and long-term health. Mood changes are common as a result of a stressful commute, and chronic shifts from a positive state to a negative state can actually hard wire the brain to respond more negatively over time. Eliminating even a short commute can be beneficial to your mental health!
More money in your pocket
On average, a commuter will spend between $2,000 and $5,000 per year on commuting expenses. This means that working remotely just one or two days a week can save you a ton of money. Measuring the cost of your commute comes down to where you live and how you commute, but the true cost of commuting is more than dollars spent at the pump or station. Other costs you can save on include your professional wardrobe, coffee, and lunches out.
Location independence
Being a remote worker means your geographic location doesn't limit you. You can live in a rural community or small town, a different city to others in your team, and you can even travel the world as you work as long as you maintain access to a good internet connection!
Greater diversity
By hiring employees not defined by geographic location, employers can enable diversity and inclusion by seeking out employees with different cultural backgrounds and perspectives. Employers can also support employees who need a flexible schedule, such as a mum with small children or a person with caring responsibilities. This creates an opportunity for those who may need it most.
Environmental impact
The majority of people who travel to work each day do so in their own vehicle. Taking these cars off the road can have a huge impact on the environment. Air pollutants such as carbon monoxide, nitrogen oxides, volatile organic compounds, and benzene are emitted into the environment by motor vehicles. These air pollutants can contribute to urban air quality problems, such as photochemical smog, and adversely affect human health.
Increased productivity
Fewer interruptions, fewer office politics, a quieter noise level, and fewer face-to-face meetings mean more time in your day to be productive. From home, you can focus on what really matters, and that is performance. According to a study of 16,000 workers over 9 months, productivity can be increased by 13% just by working from home. This increase in performance was partly attributed to fewer breaks and sick days.
The future of remote and hybrid working
The pandemic may have been the catalyst for more remote work opportunities, but a pandemic is not the only reason to work from home. The benefits of working from home are many and are well worth considering for both employees and employers. Yes, there are perils, such as family interruptions and difficulty switching off, but these are minor when compared to what can be gained from remote work. It doesn't have to be all remote work either – a hybrid model is something many see the benefit in. A hybrid model allows you to split your time between the office and home, getting the benefits of both worlds. You can still have the flexibility to get work done when you're at your most productive, but you can also work with your team on-site and keep up face-to-face communication.
The takeaway from all this? A decade from now, offices will no longer be talking 'remote' and 'hybrid' working. Instead, these two work models will simply be known as 'work' – the standard way of office life. Exciting, isn't it?
Also Read:
Is WordPress Good for eCommerce
Marketing Firm Should Use A Reporting Tool
How High-Performance Remote Teams Stay Productive

Digital Technology Guide
Digital Technology Guide team who always gives information about latest technology news and latest gadget reviews recently released with all specifications to all our readers.
Related posts